5 Strange Facts About 'Anchorman'
If you're not a fan of the movie 'Anchorman,' we're not sure that we can be friends with you. It's arguably the funniest and most popular of all Will Ferrell's movies, and it's as hilarious now as it was when it was released in 2004. All of us who've seen the film know at least three or four 'Anchorman' quotes, and we use them during our everyday lives more than we'd like to admit. Some of us even secretly wish that we could be as cool as Ron Burgundy – or as cool as Ron Burgundy when he isn't crying in a phone booth, at the very least. We don't think we're exaggerating when we say it's one of the best comedy films of the 21st century so far.
Even though it's 16 years old now – old enough to get married and join the army in some parts of the world – there's still as much interest in the film as there ever has been. Even the second 'Anchorman' film, which was released to less favorable reviews in 2013, didn't dampen the public's enthusiasm for the over-the-top characters and their lives within the world that the original film created. If you enter the term 'Anchorman' in an internet search, you'll see 'Anchorman 3' pop up as a suggested result. That's because there are still millions of people out there hoping that the story isn't done yet.
This article isn't about the potential future of 'Anchorman,' though – it's about that fantastic first film. We've got five fabulous facts about 'Anchorman' that we bet you didn't know, and we're going to share them with you right now!
1. The Movie Wasn't Filmed In San Diego
'Anchorman,' as anyone who's ever seen the film knows, is set in San Diego. That fact is pivotal to one of the key scenes in the film, as Ron Burgundy accidentally directs an expletive to San Diego's entire population after someone slips it into his autocue. It might therefore surprise you to learn that the film wasn't actually made in San Diego. You see the city in the film's establishing shots during the opening minutes, but everything after that point was filmed in either Los Angeles or Long Beach. There were practical reasons for this; the movie is set in the 1970s, and it simply wasn't possible to dress enough of San Diego up to make it appear as it did thirty years earlier. Los Angeles is far more accustomed to being used and redressed for such purposes, and so it became a more convenient filming location.
2. Will Ferrell Didn't Fake The Flute Scene
One of the more surprising aspects of Ron Burgundy's character is that he's actually a skilled flute player. He displays his skills as a flutist to Veronica Corningstone as part of his attempted seduction of her, and it all goes remarkably well. What you may not know is that Will Ferrell didn't require anyone else to come in and play the flute for him for the movie's soundtrack. Ferrell has played the jazz flute since his childhood and still plays it recreationally today. We're not sure he's ever set the end of it on fire Jimi Hendrix style, as Burgundy does on screen, but he certainly knows his way around the instrument. Last year he picked the flute up again and showed his skills to the world after being challenged to do so by pop singer Lizzo.
3. Christina Applegate Nearly Missed Out
It's impossible to watch either of the 'Anchorman' movies and imagine anyone other than Christina Applegate in the part. She's perfect for it, and she plays it convincingly and naturally, somehow bringing levity to an utterly absurd world around her. She nearly didn't get the part at all, though. Maggie Gyllenhaal auditioned for the role and was briefly the front runner, but she was ultimately cast aside because of an odd reason. Adam McKay, the film's director, thought she was too good for the role. He felt that Gyllenhaal was so gifted that she'd win an Oscar one day, and in his own words, 'you don't cast Meryl Streep in comedies.' McKay convinced himself that he'd damage Gyllenhaal's career by putting her in such a ridiculous film. We're not sure what that says about his opinion of Christina Applegate's talents!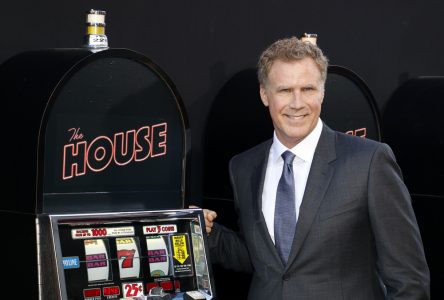 4. It's Become An Online Slots Hit
Back in the old days, a successful movie might get a companion video game, or perhaps a companion television series in the future. These days it's just as likely to turn up on the reels of a casino website. There are many movies that have been re-made or re-imagined as online slots, but most of them are action films. That's an obvious connection to make because action films share the objective of online slots, which is to get the adrenaline pumping and blood racing. 'Anchorman' is one of very few comedies to get its own official online slots game, and it's proven to be a big hit with the websites that host it. The slot was released in 2018, and for those who are interested in such things, it has a 96.03% return-to-player rate, 25 ways to win, and a bonus wheel and free spins round featuring characters from the film. Gamble with Ron Burgundy? We're not sure we would, but the option's there for you if you want to take it.
5. There Was a Real Ron Burgundy
They say the best comedy has a basis in truth, so perhaps it shouldn't surprise us all that much that there was a real-life equivalent of Ron Burgundy during the 1970s. His name was Harold Greene, and if you look up pictures of him, you'll be struck by the resemblance. He had the same taste in suits, the same hairstyle, and even the same mustache. We're not sure whether his apartment smelled of rich mahogany, or whether his contemporaries thought he was 'kind of a big deal,' but he worked for both KGTV and KCST-TV during the 1970s. Both of those stations served San Diego. We don't know whether he got a pay-off from the way he was 'used' in the film, but if he didn't, perhaps it's something that he (or his lawyers) should look into.
Want to tell your strange story? Tell us about it and it could be featured on Oddee. You can remain fully anonymous.