The work of Konkan division is top under 'My family is my responsibility' campaign – Chief Minister Uddhav Thackeray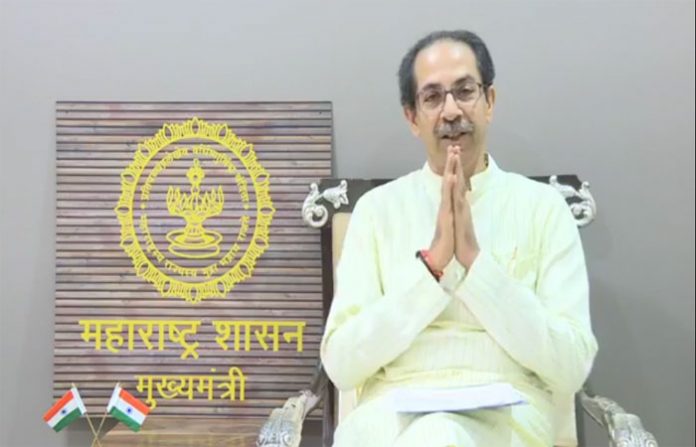 In the Konkan region, all the agencies should work in coordination to implement the 'My Family, My Responsibility' campaign at the village level. Chief Minister Uddhav Thackeray expressed confidence that the scheme would definitely be used for the eradication of corona.
Chief Minister Thackeray said that if there is any problem in the treatment of medical officers, the task force should be consulted. It should be noted that more people will participate at the Gram Panchayat level. Special efforts should be made for publicity.
The Chief Minister was speaking at a review meeting held through video conferencing with Konkan Divisional Commissioner Annasaheb Misal and District Collector of Konkan Division. Navi Mumbai Police Commissioner Bpinkumar Singh and Konkan Inspector General of Police Nikit Kaushik were present at Konkan Bhavan.
Minister of State, Ms. Aditi Tatkare said that the cured patients and their information should be published in the media everywhere. There should be more emphasis on publicity. The survey is for everyone. This feeling should be everywhere.
In the Konkan division, Thane, Palghar, Raigad, Ratnagiri and Sindhudurg districts have completed an average of 25 per cent health survey. Chief Minister Thackeray expressed satisfaction over this. Home-based inspections, surveys and guidance are being conducted through the local municipality. For this, 55 thousand 268 health teams have been deployed in the entire state and 70.75 lakh families were finally examined yesterday. It has examined 2.83 crore people. Out of 37 thousand 733 suspects, 4 thousand 517 Kovid patients were found.
The Konkan region has a population of 1 crore 92 lakh 72 thousand 65 and 48 lakh 66 thousand 372 families. 7 thousand 425 squads are required for this. Out of which 6 thousand 721 squads have been appointed. 2 lakh 17 thousand 594 families are visited daily. At present, this number is 10 lakh 64 thousand 143. During the visit 1 thousand 403 fever patients were found while 38 thousand 658 corona-like were found. The Konkan section requires 6,780 oximeters. Of these, 6,420 oximeters are available. 6 thousand 666 thermal scanners are required. Out of which 6 thousand 602 thermal scanners are available.
Volunteers for the campaign in the Konkan region are enlisting the help of Rashtriya Seva Yojana, Rashtriya Chhatra Sena, Nehru Yuva Kendra youth, competitive students and NGOs. The 'My Family is My Responsibility' campaign is being widely disseminated through flex, banners, newspaper publicity and social media. It was informed that the rate of patient doubling has come down to 55 days due to door-to-door check-up, search of close contacts and effective measures under the 'My Family, My Responsibility' campaign in the Konkan region.
Various innovative initiatives have been implemented in the Konkan region under the 'My Family My Responsibility' campaign. It includes Warli painting and Warli language in Palghar district, Dashavatara in Sindhudurg, Gudi Mahotsav in Ratnagiri district and 40 billboards under Municipal Corporation, 5 arches, 100 bus stops and 75 buses. In Raigad district, a joint press conference of the Guardian Minister and the Collector, an online essay competition was organized under Kalyan Dombivali Municipal Corporation.
Palghar District Guardian Minister Dadaji Bhuse, Raigad District Guardian Minister Ku. Aditi Tatkare, Guardian Minister of Sindhudurg District Uday Samant, Guardian Secretary, Collector, Inspector General of Police, District Superintendent of Police, Panvel Municipal Commissioner Sudhakar Deshmukh, Chief Executive Officer of Zilla Parishad, District Surgeon, District Health Officer and representatives of District Corona Task Force were present.