Succeeded in removing JCB with the help of JCB
An ST bus carrying goods got stuck in a river in Jalna district. The bus was removed with the help of JCB. Fortunately, no casualties were reported.
The Beed Depot depot bus was carrying freight. The bridge over the river Sukhna in Badnapur taluka of Jalna district is constantly washed away and some villages are cut off. At 11 a.m. today, a pool of water was carried in it due to too much water. However, the bus driver was carrying the bus as he did not know it. So the bus was stopped with the help of JCB. The bus was pulled back by a rope tied to Kokland. However, no casualties were reported.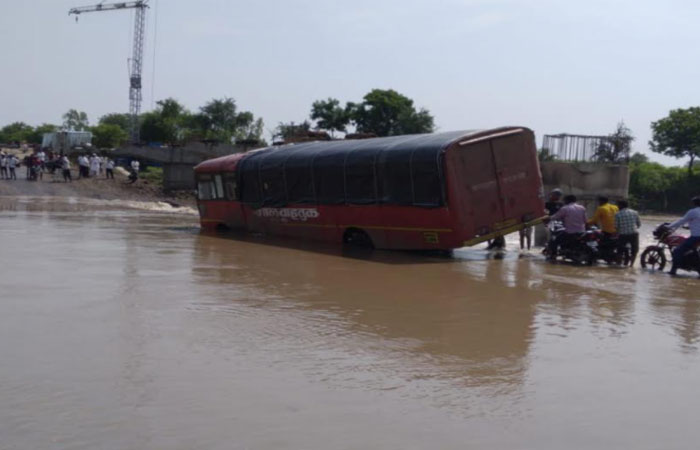 The bus survived because the JCP and Kokland were close for the bridge work. Otherwise the bus would have been swept away in the water. The river has been running continuously for three months, while the new highway from Rajur to Paithan has just been completed. However, this pool is always washed away when water comes. Even before this, two motorcycles have been carried over the bridge. Due to this continuous water, the river bank and the neighboring farms were almost completely washed away. But the administration is ignoring this. This farmer is waiting for help. The villagers are demanding that the work on this bridge be completed soon.