Punjab were hit by a short run, criticizing the decision of umpire Nitin Menon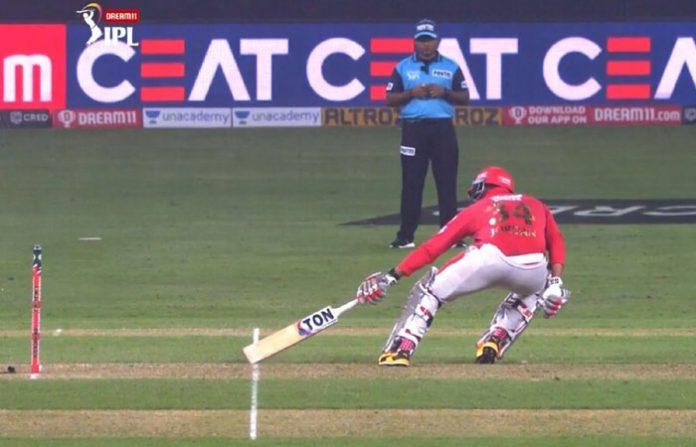 Fast bowlers Kagiso Rabada's superb bowling in the super over helped Delhi Capitals beat Kings XI Punjab in the IPL match at midnight on Sunday and scored two crucial points. All-rounder Marcus Stoyanis was declared the man of the match. This time, the tone of the match was that Nitin Menon, the man of the match, should have been selected. In the 19th over, umpire Nitin Menon decided to shorten one of the two runs scored by Mayank Agarwal and Chris Jordan. The blow fell on Kings XI Punjab. Had one run been given, the fight would have ended on time. There would have been no need for a super over. Criticism is rife that Kings XI Punjab would have won.
Marcus Stoyanis, Kagiso Rabada, Mayank Agarwal shined
The Delhi Capitals batted first and scored 157 for eight. Marcus Stoyanis hit 53 off 21 balls. Chasing the target, Mayank Agarwal from Kings XI Punjab led the team to victory with 89 off 60 balls, but he was dismissed with one run to spare and Chris Jordan was also dismissed on the last ball. In the Super Over, Kagiso Rabada dismissed Kings XI Punjab's Lokesh Rahul and Nikolan Puran for just two runs. After two runs by Rishabh Pant, Delhi Capitals won the toss and elected to bat.
What actually happened
Kagiso Rabada was bowling in the 19th over for the Delhi Capitals. Mayank Agarwal hit a long on in the third ball of the over. Mayank Agarwal and Chris Jordan took two runs each, but the newly-appointed ICC Elite Panel referee Nitin Menon took a run short from Chris Jordan. So Kings XI Punjab got one run instead of two, but looking at the replay, it was clear that Chris Jordan's bat had crossed the line. In the end, this one run proved fatal for Kings XI Punjab.
Punjab team appealed
The replay showed that Chris Jordan completed a neat run. However, the short run was wrongly decided by umpire Nitin Menon. Eventually the fight ended in a tie and we lost the match in the Super Over. If we had got that one run, we could have won that match in the allotted time. This has been clarified by the Kings XI Punjab team management and they have also appealed against the umpires.