Postponement of migration of fruit and vegetable sellers in Malwana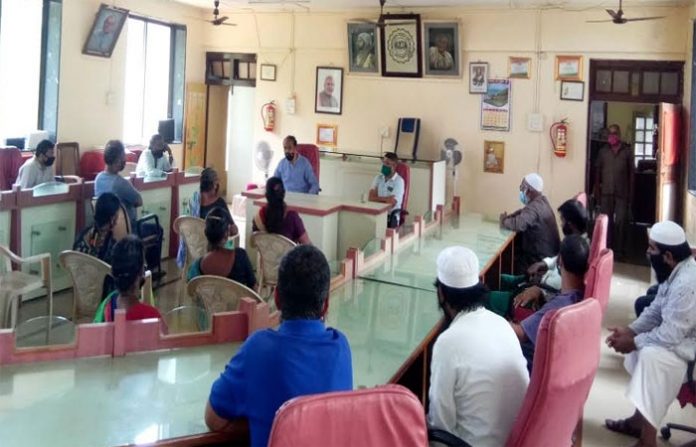 Mayor Mahesh Kandalgaonkar on Sunday postponed the decision to relocate all vegetable and fruit sellers from Malvan Bazarpeth to Mama Warerkar Natyagriha in the presence of all corporators. Fruit and vegetable sellers in Bazarpeth met Mayor Mahesh Kandalgaonkar on Sunday and expressed their grievances. The experience is that there will be no business in that place. Therefore, the sellers disagreed to stay in Mama Warerkar premises. Instead, keep everything closed for a month. But don't make us migrate. Such a role was played by the vendors. At the time, the mayor postponed the relocation decision. Chief Officer Jayant Javadekar was also present during the meeting.
Is the market crowded with vegetables and fruits? The fish market is crowded. The fish auction place is crowded. Even so, the vegetable sellers would have drawn the attention of the municipal administration. The mayor said that a meeting was also held with the fish auction holders.
Decision in all corporator meetings
Considering the growing number of corona patients in Malvan city. In order to reduce the congestion, the decision to sell fruits and vegetables to the vendors at the market for a few days from September 21 in the Mama Varrekar Natyagriha premises was taken in a meeting attended by all the corporators. Now if you vendors are opposed to sitting there, I, as mayor, temporarily postpone the relocation decision. A meeting of all the corporators will be called again and the vegetable and fruit sellers will be called at that time and a final decision will be taken regarding the relocation. Until then, vendors should do business where the market is. Everyone should follow the rules of masks, social distance, sanitizer. Otherwise, the administration clarified that action would be taken as per the rules.
Get the rules modularized
In the market we are following the rules of vegetable and fruit sellers. Let's follow it more strictly. But take action against those who do not follow the rules. We will not oppose the action taken by the administration. But let us do business in the same place. Such a demand was made by the sellers.