My family My responsibility campaign will reduce covid infection, death rate – CM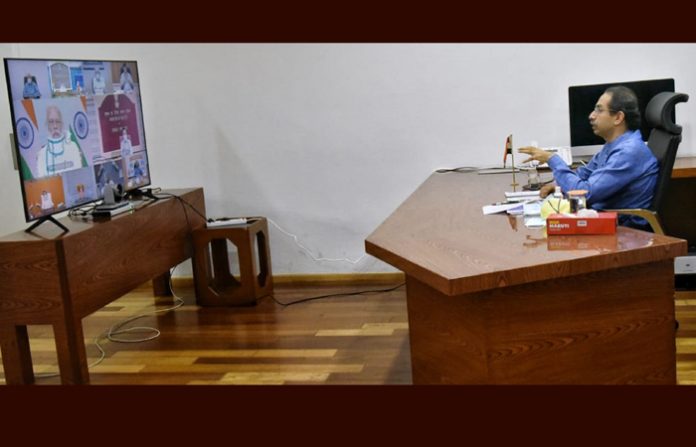 "We are fighting the battle of Kovid more aggressively through campaigns like 'My Family, My Responsibility' and as a result, we will see a reduction in the death rate and Kovid positivity rate in the years to come," Chief Minister Uddhav Thackeray said today. "We will see how patients in rural areas can get timely treatment by setting up teleICU system all over the state," he said. "Even after Kovid, patients need medical treatment and we will start treatment centers," he said.
Today, Prime Minister Narendra Modi interacted with the Chief Ministers of 7 states of the country through a televised system, at which time Chief Minister Uddhav Thackeray was speaking. The Chief Ministers of Maharashtra, Andhra Pradesh, Karnataka, Uttar Pradesh, Delhi, Punjab and Tamil Nadu also attended the meeting.
People of Maharashtra are brave – Prime Minister
The Prime Minister also said that Maharashtra's people are bravely facing the disease.
Chief Minister Uddhav Thackeray said that the Prime Minister should once again address the people of the country from his level and guide them on how to fight the Corona in the future. There are festivals coming up in the coming time and we are facing a challenge so that the corona does not grow.
Tests will be increased to one and a half lakh per day
The Chief Minister informed about some important measures being taken by the state government. In the state, two fluids are taken from the throat of a patient who shows symptoms. If the rapid antigen test is negative, the other fluid is sent for RTPCR test. Medicines are available.
TeleICUs everywhere in the state
The Chief Minister said that the TeleICU system has been introduced in the state on an experimental basis and in view of its usefulness, we have decided to set up this system in all the states and seek the guidance of expert doctors for treatment, especially in rural and remote areas.
Oxygen production and distribution should be controlled
Expressing confidence that jumbo facilities, testing facilities, laboratories have been set up at various places in the state, we are fighting tirelessly and will not lose, the Chief Minister said.
Vaccine supply planning should be done
The Chief Minister also said that the trial process should be expedited so that the vaccine production could be expedited as well as proper planning for the distribution of the vaccine.
The Chief Minister gave an example of spectacle habit
Speaking on the occasion, the Chief Minister gave a simple example of the habit of spectacles while talking about how to adopt the habit of mask. He said that in the past, when he started using spectacles, it must have bothered people a lot, it must have been a problem for the face and nose to wear, but then it has become a part of his habit that he does not suffer today.
The Prime Minister liked the example so much that he mentioned the example given by Chief Minister Uddhav Thackeray in his closing remarks and said that the mask was his indispensability in the future.
My family, my responsibility: 26% of the houses were visited by teams
It was decided to form 55,000 teams in the state. But more than that is 59 thousand teams deployed.
Since the start of the campaign, 70 lakh 75 thousand 782 houses have been visited in the state. (26% home visits) Health survey of 2.83 lakh citizens. (18% cover)
4824 covid positive individuals as well as 7 lakh 54 thousand comorbid people were found.
The state government has taken some very good steps during the Corona period.
Benefit of Mahatma Phule Jan Arogya Yojana to all citizens of the state
Made it mandatory to reserve 80 per cent beds in private hospitals
Controlled test rates.
Created a task force of expert doctors. Task force of doctors in the district.
Village Corona Village Vigilance Committees
We have also controlled the production of oxygen. The law now mandates that 80 per cent of the total oxygen production be supplied to the medical sector and 20 per cent to the supply industry
The tanker carrying oxygen has been given the status of an ambulance.
Control room for oxygen availability and problems
Last month, 18 RTPCR testing laboratories were started in the state. Currently the state has a testing capacity of 80,000 tests.
More than 140 per million fixed by ICMR i.e. 677 tests are performed
In August, 65,000 tests were performed every day.
Two fluids are taken from the throat of the patient with symptoms. If the Rapid Antigen Test is negative, the other fluid is sent for RTPCR test.
RTPCR test kits begin to be purchased at very competitive prices
Beds availability
7722 beds, ICU beds 3091 and 1143 ventilators in March 2020
Today, the total number of beds available is 3.60 lakh.
There were 16,192 beds in 353 institutions for quarantine in the state.
There are currently 1,24,284 beds available in 1,010 institutional quarantine facilities
The state's economic cycle began to accelerate
Farmers will benefit from the same pickle: This campaign will be useful to get a fair price for agricultural commodities and will free the farmers from worries,
19,450 crore Debt Relief – Rs. 19,450 crore to 31.89 lakh debt accounts
Further promotion of agriculture and food processing industries
Maharashtra Agribusiness Network (MAGNET)
Record cotton purchases
E-Crop Survey Mobile App: Transparency, Speed ​​and Accuracy with the Help of New Technology. Information on more than 240 crops at a time
Shivbhojan – Distribution of 1 crore 84 lakh plates
Rohyo's work begins
Assistance to Nature Cyclone Victims: A total of Rs. 623.94 crore has been allotted to Raigad, Ratnagiri and Sindhudurg districts.
Flood situation in Vidarbha: We have provided Rs. 16 crore 48 lakh 25 thousand as emergency and initial assistance to the flood affected people.
About 6,000 people get jobs through Mahajobs
95 percent of the industry started after the unlock process
Steps for housing for all: Decision to set up separate Slum Rehabilitation Authority for 8 Municipal Corporations and 7 Municipalities.
Prosperity work started fast: 'Hindu Heart Emperor Balasaheb Thackeray Prosperity Highway work has started fast. Plans are afoot to build 24 townships on the highway.
Milk Powder Tribal children and women started giving free milk powder to 6 lakh 51 thousand children as well as 1 lakh 21 thousand pregnant, lactating mothers for 1 year.
100 per cent khawti grant: The khawti scheme which has been closed for the last few years has been started and we are giving Rs.
School closed but education resumed
Students are also being taught on Google Class Room / Tata Sky, Geo, Disha App.
Planning to complete the state examination process by October 31
Promoting Tourism – Ease of Doing Business seeks to minimize the number of permits for hotel business. / Adventure tourism
Extensive forest in Mumbai: 600 acres of land near Sanjay Gandhi National Park reserved for forest. This will be the first time in the whole world that such a vast forest has blossomed in the center of a metropolis.
Late. Balasaheb Thackeray Road Accident Insurance Scheme
Agricultural festivals in all the districts of the state
The Women's Economic Development Corporation (MAIDIM) has launched an 'e-business platform' aimed at getting better market prices for agricultural produce produced by women farmers in rural self-help groups.