Monica Morela discharged from hospital after hand transplant surgery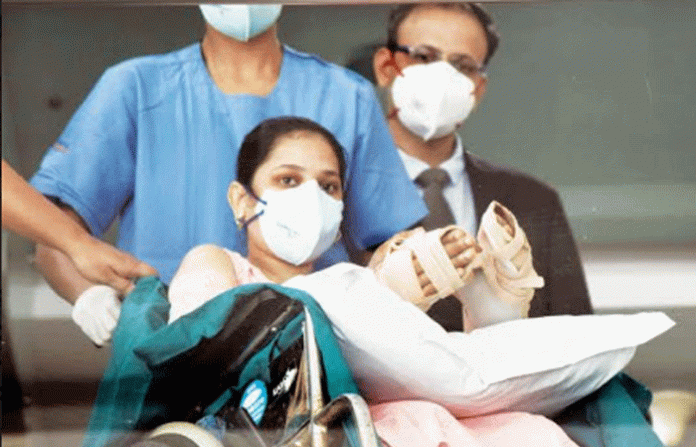 Today my dad's dream came true. My dream came true, my doctor's dream came true. This is a new birth for me. Monica More commented today that I was able to see it only because of the doctors.
After successful hand transplant surgery, Monica More was discharged from Global Hospital in Parel today. She gave the above reaction while interacting with reporters at the time. She also thanked the families who donated their hands to her. She said that it was because of him that she got this life today. At this time, Dr. Global Hospital. Nilesh Satbhai, Dr. Dr. Amaresh Baliar Singh and CEO of Global Hospital. Vivek Toularikar was present.
Giving more information about this surgery, Dr. Nilesh Satbhai said that on August 28, Monica had a successful transplant of both her hands. This is the first hand transplant surgery in Mumbai and western India. Monica is now being discharged and will have to take special care, he said. So after being discharged, she has been taught to do some physical exercise at home. Moreover, her mother has also been trained in this regard. After the transplant, Monica's condition improved and she was kept in the ICU for a week. She was then placed in a special room. The hospital had informed that the TV was installed for her entertainment.
Rs 36 lakh spent
Meanwhile, a total of Rs 36 lakh was spent on the 16-hour surgery and subsequent maintenance at the hospital. Apart from that, doctors are now expected to spend Rs 15,000 to Rs 20,000 a month on medicines and other expenses, he said.
Many hands came forward to help
Doctors have said that many hands have come forward so far to help Monica More. Doctors said that many people helped out considering the cost of the surgery. Apart from that, a special campaign has also been launched on Facebook by Global Hospital for this. Presented by Vivek Toularikar.
Special care is important to prevent infection
Monica was given special care because of the possibility of infection due to hand transplant surgery. She will now have to pay special attention even after being discharged from the hospital. She also needs to be isolated at home for a few months to keep her from getting infected. Also, during the Corona period it is forbidden to go out with any social or crowded bananas with full care.