Mental strength to patients suffering from corona through various activities, Cellu's Covid Center ideal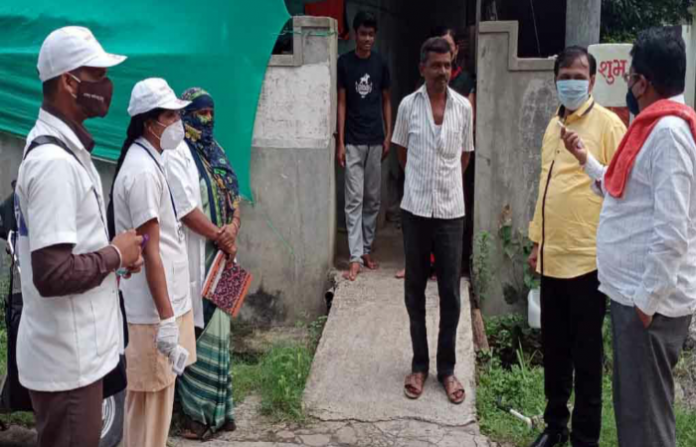 Considering that corona changes the patient's mentality, the medical superintendent of the sub-district hospital at Kovid Center here, Dr. Sanjay Harbade has successfully started the cellulo pattern of giving mental strength to corona patients by implementing various initiatives. Also, the 'My Family, My Responsibility' campaign launched by Chief Minister Uddhav Thackeray has been effectively implemented in the city. This eliminates the fear of corona in corona-infected patients and also increases the patient's recovery rate, giving the impression that this cellulo pattern is succeeding. The Cellu Covid Center is also being appreciated across the district and recently the Guardian Minister Nawab Malik had also suggested that others should follow the example of the Celu Covid Center.
Due to this cellu pattern, a few days ago, the team of the hospital at Ambad visited the cellu sub-district hospital and explained the activities going on in cellu. It used to be the Kovid Center at the sub-district hospital in the city. But due to lack of other space, the Kovid Center has been shifted to the Government Hostel on Tehsil Road. Medical Superintendent Dr. Sanjay Harbade visits himself every day. In this center, patients are given counseling and guidance along with nutritious and supplementary food. To watch educational programs, watch TV. Has been arranged. Also, through singing and guidance, Corona has made a successful attempt to keep the patient's mindset positive. At this time, Medical Superintendent Dr. Sanjay Harbade himself encourages patients by singing songs. All the doctors are also paying attention to the diet of each patient. At the same time, the relatives of each patient are being given all the information and the patients are also showing confidence in the Kovid Center.
Yoga is also taken every morning and evening. This helps in increasing the health and immunity of the patients. So far, a number of corona-infected patients have recovered from the Covid Center in Cellu and gone home. The Maharashtra government's 'My Family, My Responsibility' campaign is also being implemented effectively by the administration. Mayor Vinod Borade, Dr. Sanjay Harbade himself is visiting every ward and guiding the citizens to get checked.