Australia stopped England's winning streak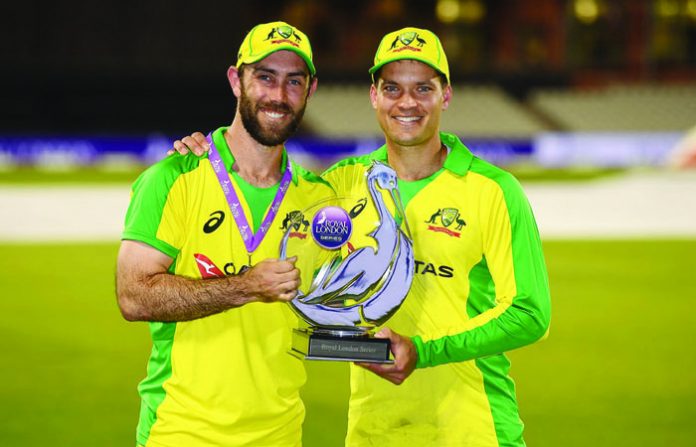 Australia put up a memorable and record-breaking performance in the ODIs at midnight on Wednesday. Chasing 303 from hosts England, Australia were 73 for five. But all-rounder Glenn Maxwell and wicketkeeper Alex Carey put on a 212-run partnership to undermine England's dream of a series win. Australia won the match by three wickets on the strength of two brilliant centuries. With this defeat, England's series of home victories, which started in 2015, was also broken. It is also the first time since 2017 that they have lost an ODI series. Glenn Maxwell, who scored 186 runs in the series with a century and a half-century, was named man of the match and man of the series. Australia won the series 2-1.
Maxwell, Carrie's smashing centuries
The Kangaroos won the ODI series 2-1
Player of the Match and Series – Glenn Maxwell
Sensational partnership
Alex Carrey and Glenn Maxwell battled for the Kangaroos after failing batsmen Dodd Warner (24), Aaron Finch (12), Marvus Stoinis (4), Marnus Labushen (20) and Mitchell Marsh (2) failed. Glenn Maxwell emphasized the 'air strikes', while Alex Carey recovered the runs with shots on the ground. The duo put on a convincing 212-run stand to turn the match around. Alex Carey hit 106 off 114 balls with two sixes and seven fours, while Glenn Maxwell hit 108 off just 90 balls with seven sixes and four fours. Alex Carey scored his first ODI century, while Glenn Maxwell scored his second. After the two were dismissed, Mitchell Starc sealed the Kangaroos' victory with a six and a four off Adil Rashid.
Take a look at these statistics
Three centuries were scored in this fight. It also rained 607 runs with 15 sixes.
In this match, four players, who were batting below the sixth position, scored more than half a century. They include Glenn Maxwell, Alex Carey, Chris Vokes and Sam Binlags. This is the first time this has happened in ODI cricket.
The match topped the list of most chased batsmen after five wickets were dismissed. Australia had lost five wickets in 73 overs. He then chased down 230 runs.
England had won nine consecutive series at home since 2015. This series is now broken. Also in 2017, they had to accept defeat in the series against India. Now, three years later, they have lost the ODI series.
Baerstache century
Earlier, England won the toss and elected to bat first. Opener Johnny Bairstow hit 112 off two sixes and 12 fours. This was his 10th ODI century. Sam Binlags (57) and Chris Vokes (53 not out) helped England reach the 302-run mark. Australia's Mitchell Starc sent Jason Roy on the first ball of the first over of the innings and Joe Root on the second ball into the pavilion. Adam Zampa, along with Mitchell Starc, also took three wickets.