Poster of Taiwan felt outside the Chinese embassy, ​​China flared up on India
New Delhi: China is angry over posters outside the Chinese embassy in India marking Taiwan's 'National Day'. China's official newspaper, the Global Times, was quoted as saying that it was like playing with fire and that the already strained Indo-China relations would deteriorate further.
In fact, a congratulatory poster was put up outside the Chinese Embassy in New Delhi on Taiwan's National Day. The name of Delhi BJP leader Tejinder Pal Singh Bagga was also written on the poster. Bugga also tweeted a picture of the poster from his Twitter handle.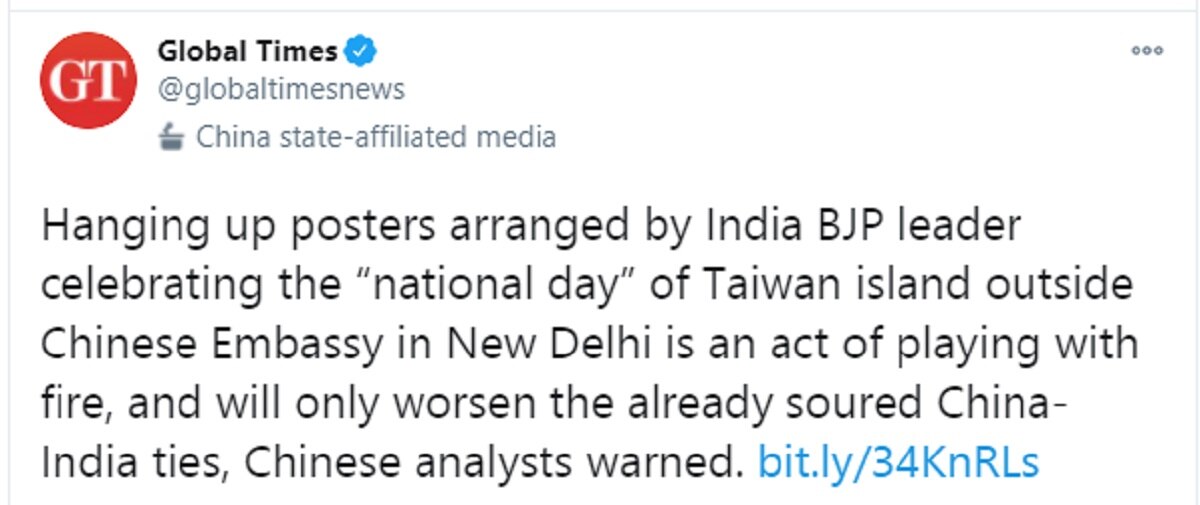 The Global Times quoted a Chinese expert as saying that the BJP leader had taken the step at a time when the Indian media had endorsed and supported Taiwan's National Day.
Meanwhile, on the occasion of National Day, Taiwan's President Tsai Ing-wen sent a message of peace to China, saying his country was in favor of meaningful dialogue on an equal footing.
Notably, China considers Taiwan an integral part. While Taiwan rejects China's One Nation to System. China recently expressed displeasure over an advertisement in Indian newspapers to celebrate Taiwan's National Day and said India should be mindful of its one-China policy.