Sushant's brother-in-law shared screenshots of WhatsApp chat with the actor, the issue was discussed
Mumbai: More than three months have passed since the death of Sushant Singh Rajput. His family is waiting for justice every day. Meanwhile, Sushant's brother-in-law Vishal Kirti has shared some interactive chats with the actor in his blog. The conversation between Sushant and his brother-in-law Vishal took place in 2018, in which the two talked about books.
Looking at these gossips, it is clear that Sushant was fond of non-fiction stories and books. Vishal wrote- 'Today we are waiting for new things in this case, meanwhile, I am sharing beautiful memories of an intellectual chat session with Sushant. It reminds me that talking to people face to face is a great experience, while digital communication is the best way to remember them. ' Vishal further wrote about Sushant that he loves books and he was really intellectual.
Screenshot of Vishal's WhatsApp chat with Sushant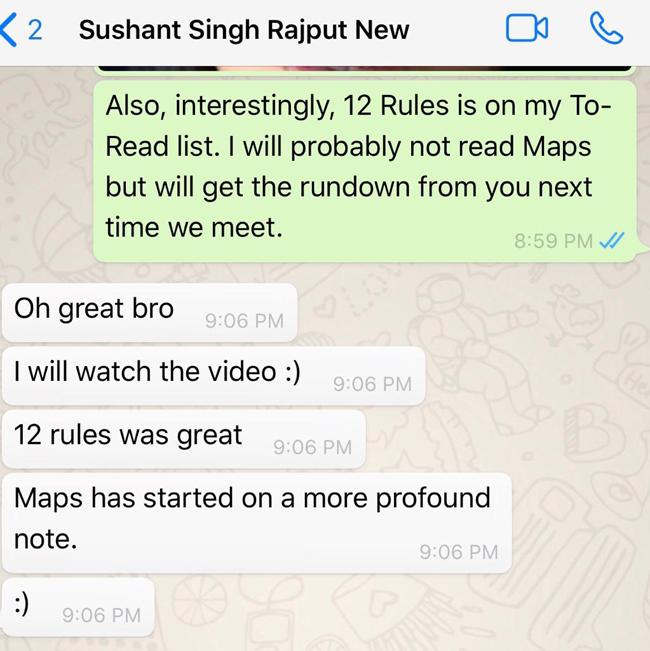 He discusses legend classics, contemporary non-fiction books. Vishal writes that Sushant was very attached to the non-fiction world. Their chat is from April 2018 when Sushant wrote some notes. These are the same notes found in Sushant's farmhouse in Pawan. Vishal also said- 'Sushant was also talking about books with his sister Shweta Singh Kirti, but the interest of these two was different from mine. The beauty inside Sushant was that he was attached to all things. Whereas I only focus on things related to my style.

These issues were discussed
Vishal has shared a screenshot of the chats with Sushant. Topics include 12 laws, complexity theory, evolutionary biology, machine learning, game theory, the Lucifer effect by Philip Zimbardo. Vishal has also praised the artist who created the wax statue of Sushant in his blog. He said that Sushant Roy of Asansol, who made the statue of Sushant, coincidentally has the same name.